How LexTrack Works
See below a few of the many awesome features LexTrack has to help you handle your submissions
See Status on Dashboard
The LexTrack Dashboard lets your team see everything in one place. Effortlessly.
Sort by deadline, key words, tags or publication. See who is responsible for which submissions and which practice groups are getting the most attention.
It's the only way to effectively manage the large number of submissions your team handles each year.
Organize your directory submissions process and enhance your team's overall productivity and success with LexTrack today.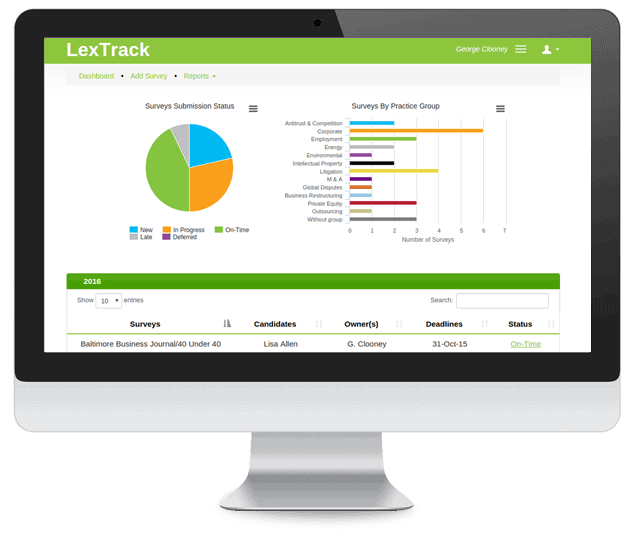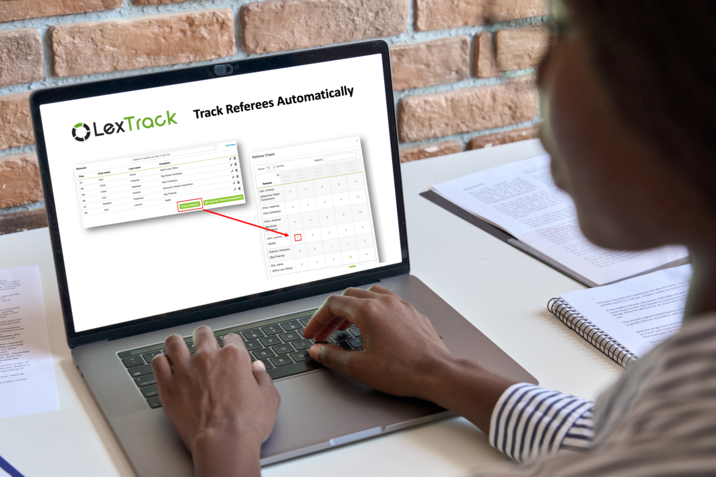 Don't Abuse Your Referees
Use our Check Referees instant report to see how often and how recently individual client references and client companies have been used in submissions to increase the likelihood referees will respond when contacted.
Gain valuable insights into the frequency and recency of individual client references and client companies used into your submissions. Make informed decisions and identify the overuse or staleness of particular references.
Be proactive, make strategic choices and avoid the potential risks of relying too heavily on a limited pool of referees.
Clone Directory Forms in Seconds
Stop copying and pasting in and out of forms and spreadsheets today!
Save time by cloning your latest Chambers & Partners* submissions into Legal 500* submissions (and other forms) with a few clicks (and vice versa).
All data is cloned—all practice and matter details, lawyers, referees, clients.
Why make the directories submissions process harder than it has to be?
We keep all forms up to date and LexTrack supports cloning from- and to- multiple directory forms.
* All trademarks, logos and brand names are the property of their respective owners.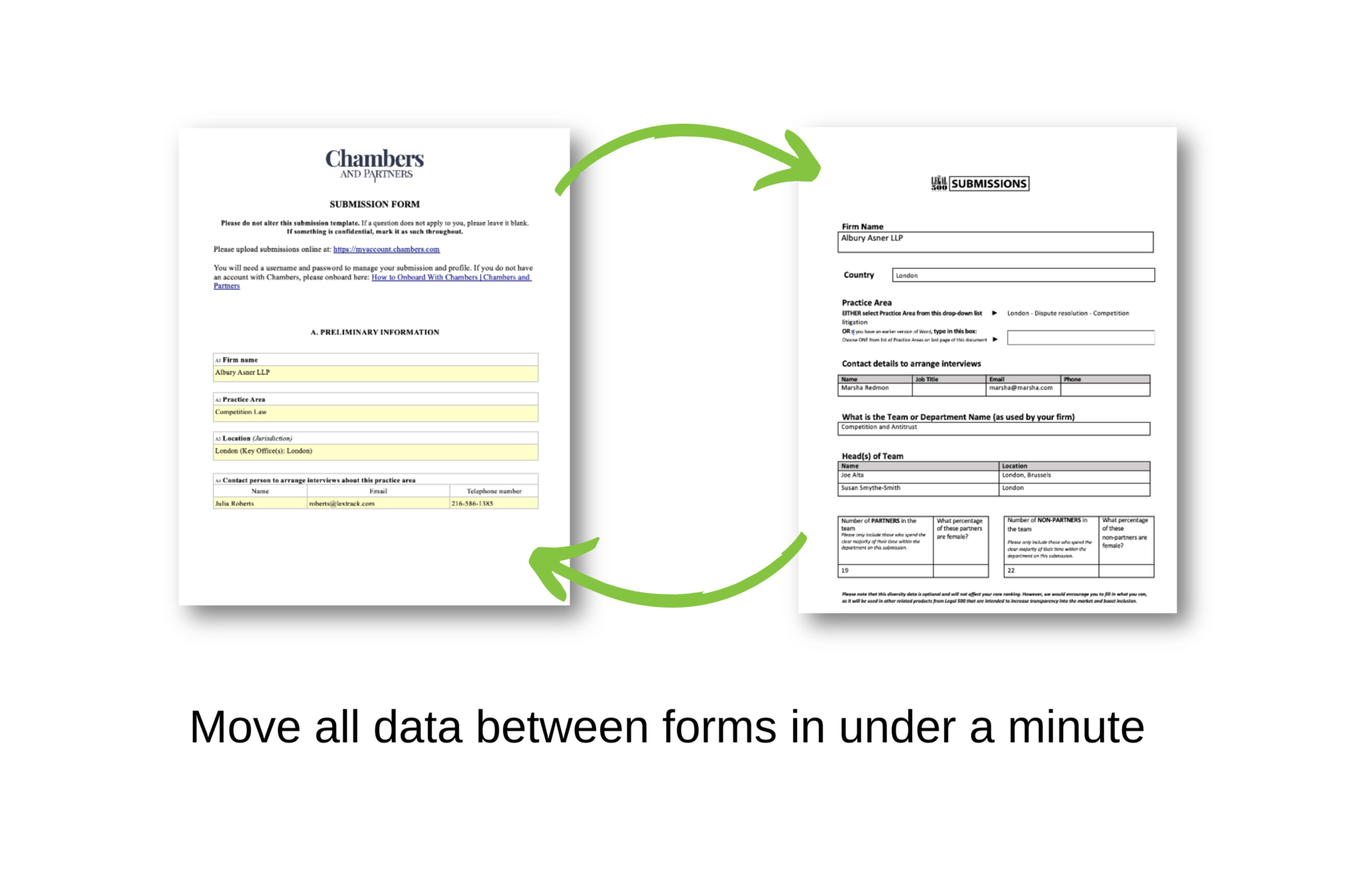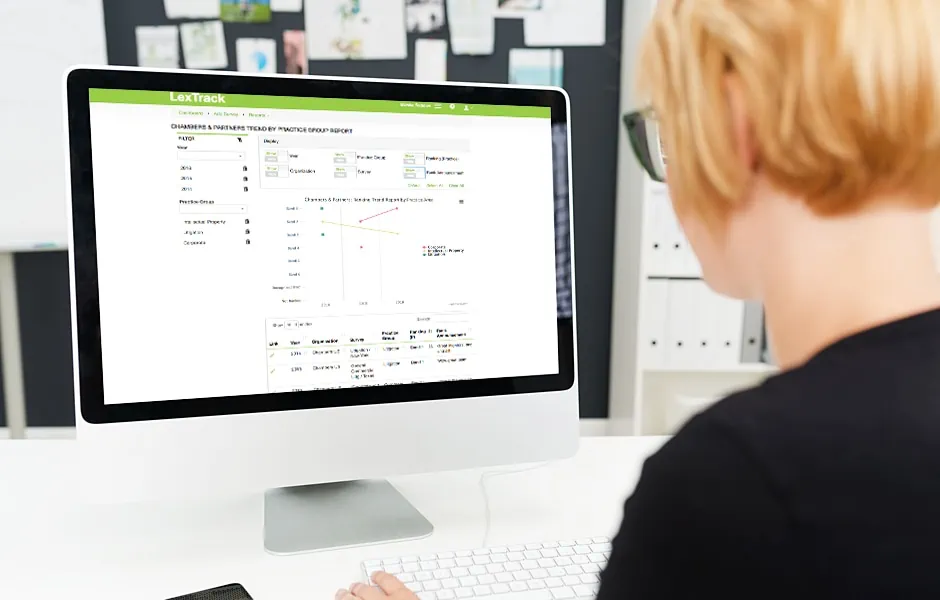 Track + Visualize Directory Results
LexTrack's state-of-the-art directory management platform offers an intuitive and comprehensive solution for seamlessly entering, monitoring, and analyzing directory results—all within a centralized and user-friendly interface.
Track directory submission results with precision, whether you prefer to view rankings by practice group, directory, individual lawyer or many other criteria.
Visualize and analyze trends in submission results over time using our sophisticated built-in analytics reporting tools.
Transform your directories process into a streamlined, analytics-informed, and results-driven operation.
Generate Deal and Lawyer Accolade Lists
Leverage LexTrack for business development for pitches, RFPs or media interviews, to name a few.
Create customized lists of the latest, most significant, relevant matters in seconds. LexTrack contains every version of every matter used recently in your firm's directory submissions.
Need to credential a group of lawyers or practices for a pitch or RFP?
Use LexTrack's Lawyer Scorecard or Practice Scorecard report to list that group of lawyers or those practices' directory rankings and other accolades.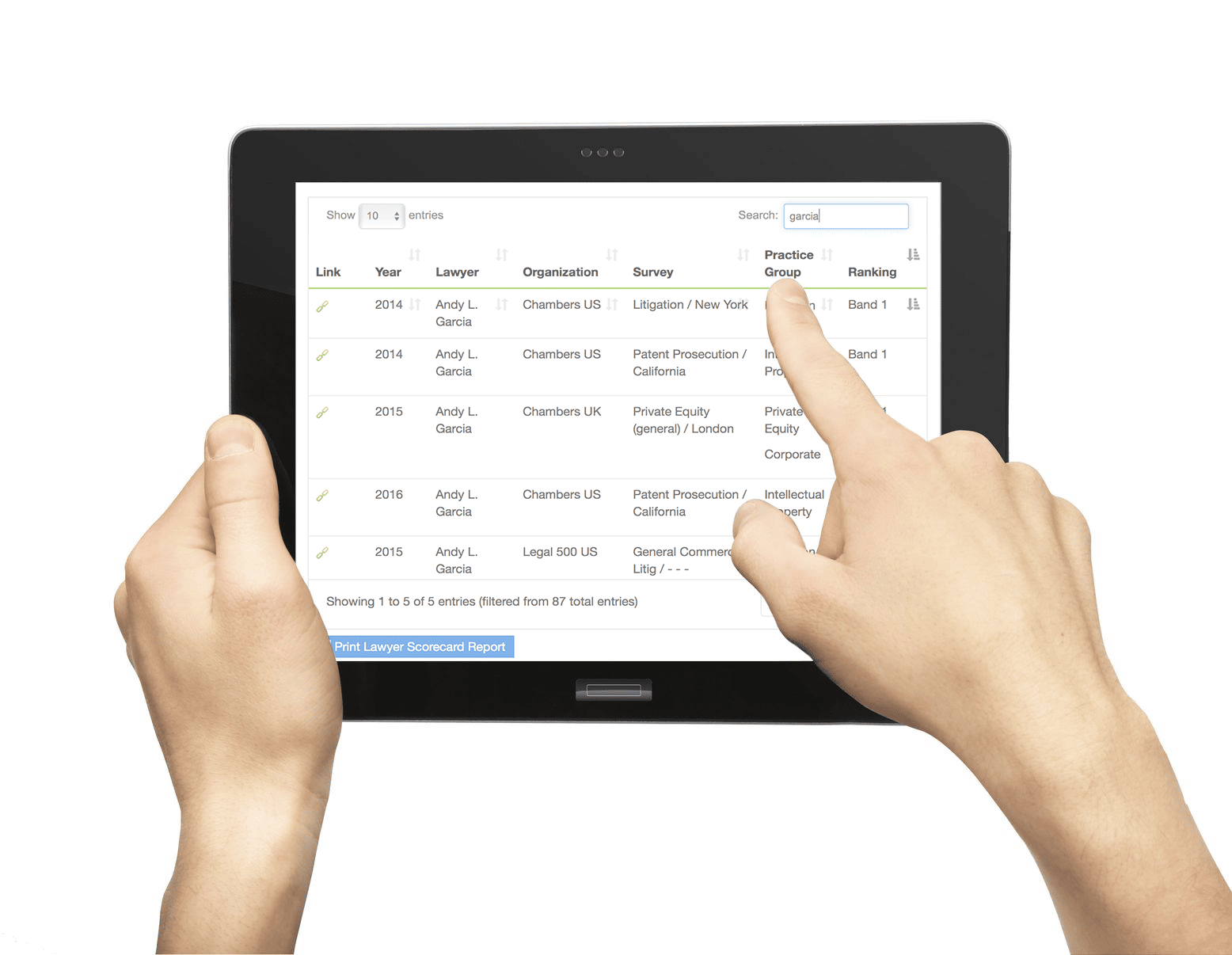 ...and there is more! See LexTrack in action
See for yourself how LexTrack makes submissions less painful and your team more effective
Get A Demo
About Us
Committed, Reliably Helpful, Endlessly Supportive—That's Who We Are
LexSource LLC was founded in 2013 by a former Big Law lawyer. The company is woman-owned and founded.
Our flagship product, LexTrack, is a comprehensive directories and awards management platform designed by legal marketers for legal marketers. The platform has been engineered from the ground up to solve the most vexing problems law firms face with the legal directories process.
Our goal has been simple—to help make every law firm's directories submissions process smarter, faster and more effective.
Our vision is to remove the busy work from the directories process and leave more time for strategy and higher level tasks.
We have your back—amidst never-ending submission deadlines and constantly changing forms.
No more stickies, no more tracking spreadsheets
Intuitive, easy to use platform
Unlimited support by our ultra responsive team
See how LexTrack can make your directory submissions easier today.
Learn More
CONTACT US
We'd love to hear from you!
Whether you're intrigued or inspired by LexTrack's capabilities or interested in seeing a demonstration,
we are ready to answer any questions you may have.
We do our best to respond within 1 business day.
Send us an